Afternoon Tea at Chatsworth House
April 15, 2020
A Beautiful and Delicious Tea Experience
If you are a Jane Austen fan, or even just a Pride and Prejudice fan, you'll want to visit Chatsworth House. And as I have now been there several times, I can promise you it is well worth the visit.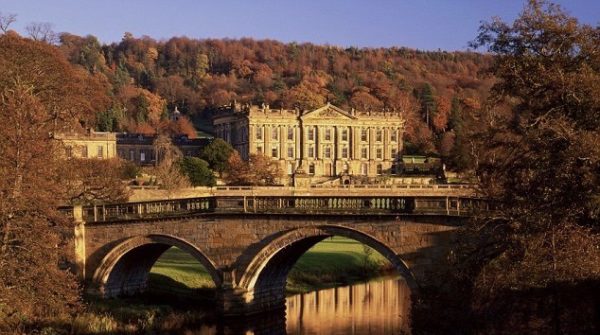 As you drive down the winding drive towards the house, you suddenly happen upon the view of the house and lake and it is very dramatic. In fact, every time the previous Duchess, Deborah Cavendish and her husband the Duke approached the house, she would teasingly say to him "I wonder who lives there?"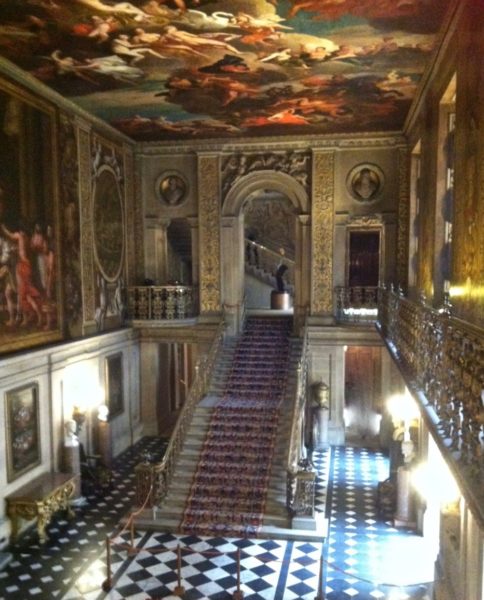 The house of course is grand with its many lavish rooms, some of which were designed to host long ago kings and queens and has an amazing amount of famous and stunning art work including Rembrandt, Gainsborough, Renoir to name but a few as well as many contemporary pieces. The grounds include the Emperor Fountain and Canal Pond, a maze and many paths throughout the extensive gardens. It's all an incredible experience to visit.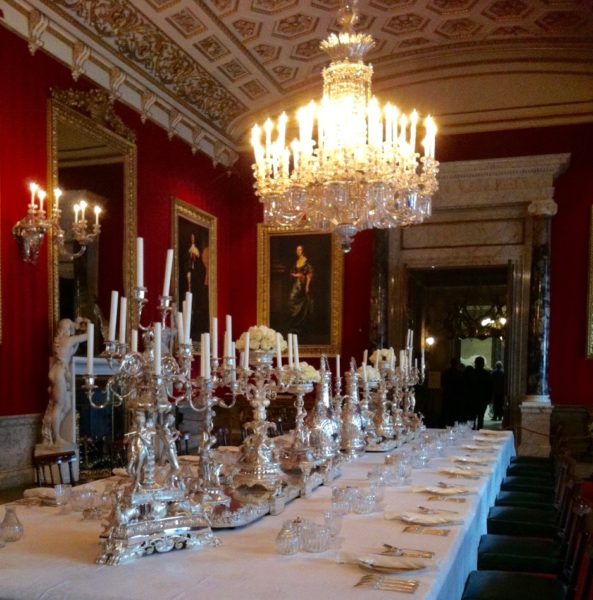 This visit for me and my husband along with lifelong friends, included a full afternoon tea experience. Chatsworth House converted their magnificent and stately stables into shops and restaurants and the Flying Childers is a tea room within this stable block.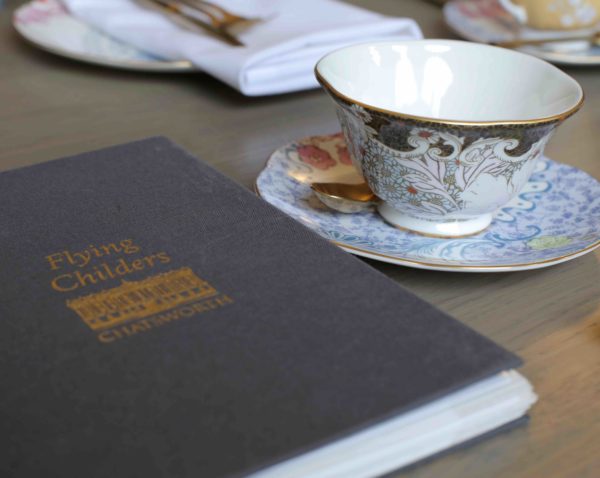 Chatsworth, together with Wedgwood has designed a set of tea china to serve their guests in the Flying Childers Tea Room. It is a beautiful set with each piece being unique from the other pieces to form a collection of whimsical, floral tea china.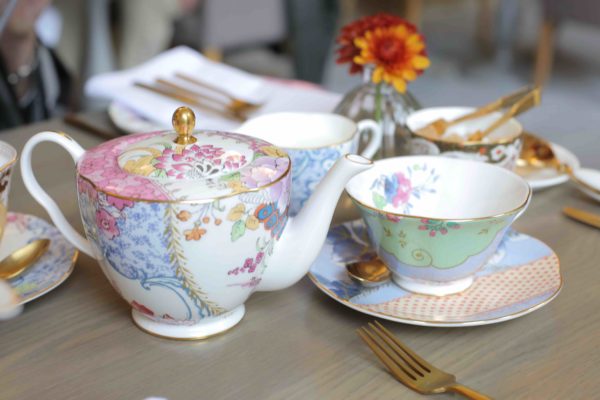 We were given a menu of teas to choose from and invited to try several different teas throughout the meal. Some tried the Wedgwood tea, a strong malty tea, while I of course stayed with the lighter Darjeeling Tea. Each time our tea pots were empty, we chose a different tea and a new tea pot, in a new version of the pattern was brought out. The servers were very generous with this and as a result we fully enjoyed the many teas as well as the variation in the china dishes.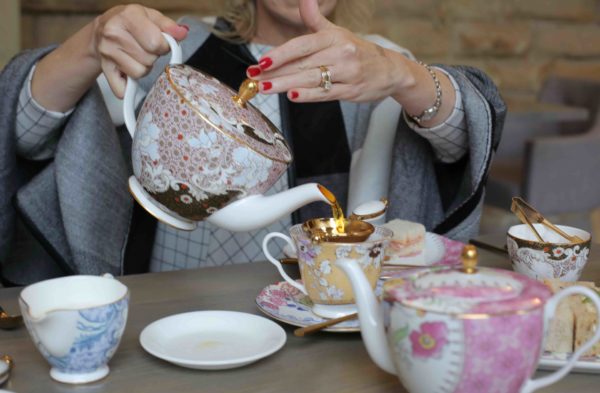 Unusually, the afternoon tea began with a starter of beet root flavoured macarons served on goat's cheese curd along with delicate sized cubes of beet root. The combination of these three foods was surprisingly delicious.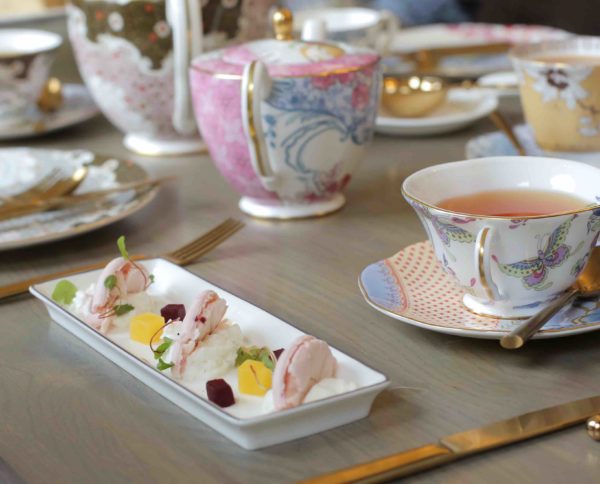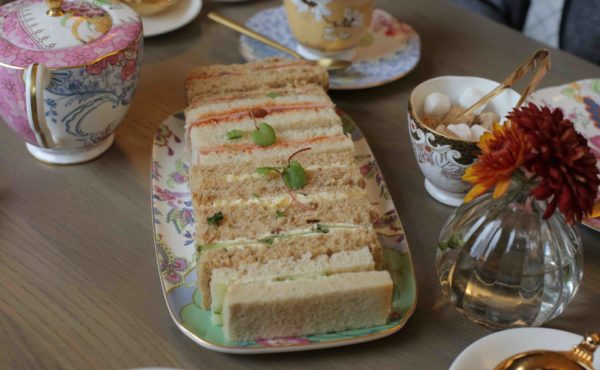 This was followed by a plate of traditional sandwiches, and then a 2 tiered cake plate with scones – both savoury and sweet – on one level and small petit four like cakes on the other. Each of the little cakes was enjoyable, some being traditional such as the fruit cake with Wedgwood blue icing on top, and some unusual, all very tiny and appropriately sized for a large rich tea time.
The highlight of the afternoon tea at Chatsworth was the use of the beautiful Wedgwood tea set and the generous serving of many different pots of tea. The staff were kind and helpful and allowed us to linger and really enjoy each aspect of the tea. If you find yourself going to Chatsworth, be sure to book yourself an afternoon tea in the Flying Childers tea room. I'm sure you'll enjoy it as much as we did.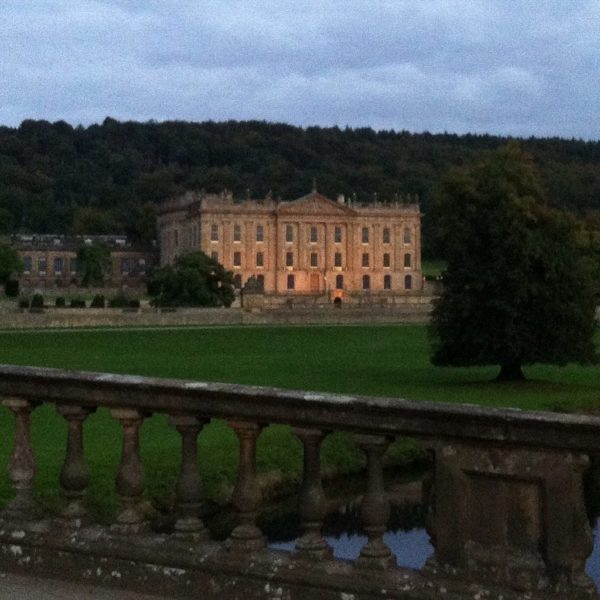 ---
Teresa Barker
Ever since she was a little girl, Teresa has loved looking at fine china and some of her prominent childhood memories are about the beautiful patterns on the china tableware in the homes she would visit! She's been living in Great Britain for 13 years, along with her husband and three children.