An Autumn Tea with Apple Torte & Maple Leaf Scones
October 11, 2018
Three ideas to serve a simple autumn tea with recipes.
Autumn (or Fall as some people refer to it) is my very favourite season. Of course I love the leaves turning colour, the changing light and the crisp, mild weather. It all seems to invite a quieter, perhaps more reflective time. And if you're at all like me, these autumn days are good days to have tea with friends. There are so many different ways to have tea and today I am sharing a few ideas on how to serve an autumn tea.
Having tea in the autumn provides the opportunity to serve seasonal food and nuts and apples come to mind. Scones are usually a key ingredient to tea time and a savoury scone can be a pleasant change. Here I've made a walnut and blue cheese scone, served with butter. I used my maple leaf shaped cookie cutter to form leaf shaped scones.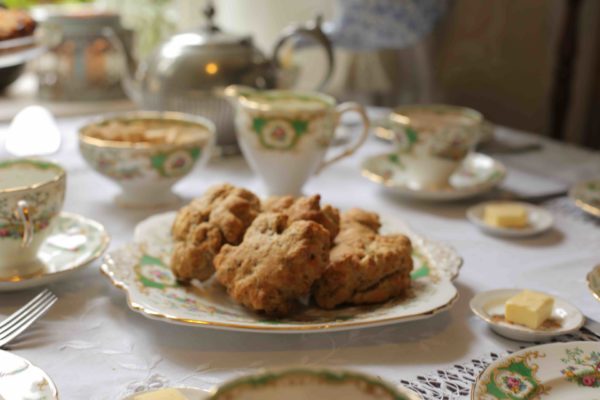 A favourite cake with our family is the Bavarian Apple Torte which features apples, almonds and cream cheese and is a recipe shared with me from my cousin. It's simple to make, stunning to present, and very delicious indeed! A true winner.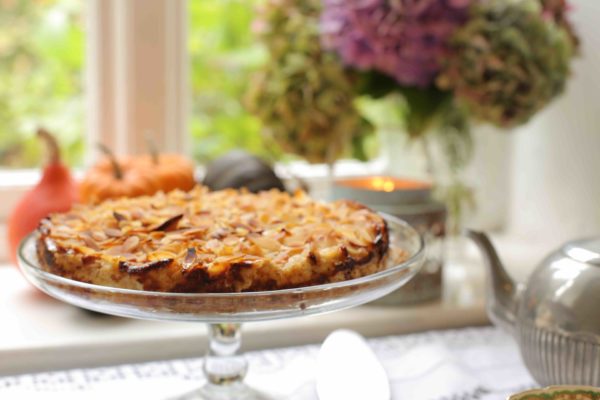 I enjoy decorating the house during autumn with small pumpkins, a variety of squashes and end of the season hydrangeas and these make a lovely backdrop of the autumn tea.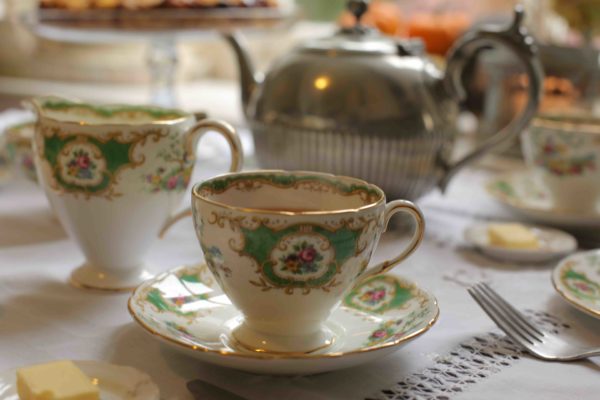 And of course, it's always special when one pulls out the pretty dishes. Any pretty set of dishes will do, and here I've used the Exotic Bird Green Tea Set – a striking and colourful tea set (which is available here on Bring Back Tea Time – just click on the link) Many of these tea sets do not include the tea pot and so I've used a silver tea pot for this tea time.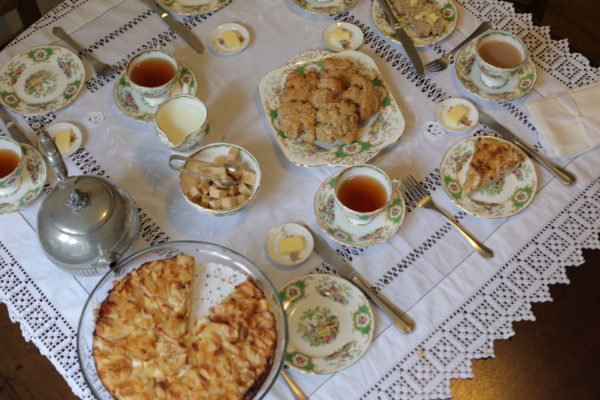 It didn't take much time to bake the scones and the apple torte and setting the table for tea is definitely enjoyable. Within a short while the Autumn Tea was ready and it was a lovely tea time.
Savoury Walnut and Blue Cheese Scone
1 cup whole meal flour                            1 cup white flour
1 tbsp sugar                                               4 tsp baking powder
0.5 tsp salt                                                 1 tbsp basil
1/2 cup cubed blue cheese                      1/2 cup chopped walnuts
3/4 cup milk                                              1/3 cup oil
In medium mixing bowl, mix together all the dry ingredients. Stir in the cheese and walnuts. Make a well and add in the milk and oil, stirring well to mix, then kneading. Roll out to 1″ thick and cut with cutter. Place on tray and bake at 400 F for 15 minutes. Makes 12 scones.
Bavarian Apple Torte
Layer One:
1/2 cup butter
1/3 cup sugar
1/4 teaspoon vanilla
1 cup all-purpose flour
Preheat oven to 350 degrees. Cream butter, sugar and vanilla. Blend in flour to make a soft dough. Spread or press on bottom of 9 inch springform pan.
Layer Two:
8 oz cream cheese, softened
1/4 cup sugar
1 egg
1/2 teaspoon vanilla
Cream together the cream cheese and sugar. Add the egg and vanilla and mix well. Pour onto pastry in pan.
Layer Three:
1/3 cup sugar
1/2 teaspoon cinnamon
4 cups peeled, sliced apples (I used three Spartan apples and had just the right amount to fit on the pan – I didn't measure them)
1/4 cup sliced almonds (optional)
Combine the sugar and cinnamon, add the apples and toss together. Arrange on cream cheese layer and sprinkle almonds on top. Bake at 350 degrees for 15 minutes, then increase baking temperature to 400 degrees and bake until the apples are tender, about 25 minutes more. If the almonds begin to brown too quickly, cover loosely with aluminum foil. Cool slightly. Remove from pan, loosening edges with a knife first. Cut into wedges and serve warm or at room temperature.
---
Teresa Barker
Ever since she was a little girl, Teresa has loved looking at fine china and some of her prominent childhood memories are about the beautiful patterns on the china tableware in the homes she would visit! She's been living in Great Britain for 13 years, along with her husband and three children.